Chris Wormley, actual defensive line de los Baltimore Ravens y ex jugador de los Michigan Wolverines ha accedido a responder unas preguntas para la web al igual que ya hizo su compañero Ronnie Stanley.
Chris Wormley nació en Toledo, Ohio en 1993. Curiosamente en la misma ciudad que sus dos últimos entrenadores, los hermanos Harbaugh. Se comprometió con la Universidad de Michigan en 2012 pero una desafortunada lesión le hizo perderse su primera temporada al completo. En 2013 ya si que tuvo más oportunidades pero no fue hasta 2014 cuando fue titular en la defensa'blue'. En 2016 fue nombrado capitán del equipo y cuajó una gran temporada en la que estuvo incluso nominado al mejor defensor en varios premios y estuvo en el All-Pro de la Big 10 y Second All-Pro de todo el panorama nacional.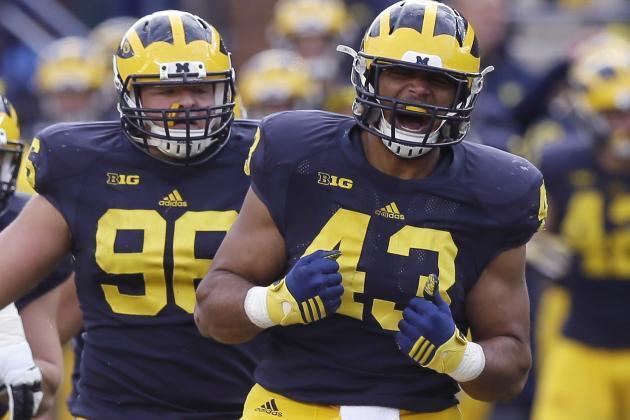 Su andadura en la NFL iba a comenzar en el año 2017, cuando los Baltimore Ravens le iban a seleccionar con el pick 74 en la tercera ronda del draft. Como hemos dicho antes, la casualidad (O quizás no tanta) le hizo acabar en el equipo de John Harbaugh, el hermano del que era su entrenador en college, Jim. Durante su primer año en la NFL no ha tenido mucha importancia en el juego defensivo de Baltimore como es de esperar en una Defensive Line tan poblada como la de la franquicia córvida con jugadores como Brandon Williams o Michael Pierce.
Sin más dilación os dejamos la entrevista con Chris, un magnífico jugador y una mejor persona:
Chris Wormley – you were born in Toledo, Ohio, one of the states with more tradition in football. Did you only play football or did you play other sports growing up?
I played baseball, football, basketball and track growing up.
Coming from Ohio, how did you end up playing for the Michigan Wolverines, main rivals of the Ohio State Buckeyes?
I grew up a Michigan fan, and when it came time to pick a school they were a perfect fit for me athletically and academically
About rivalries, you have been lucky enough to participate in one of the biggest ones in NCAA (Ohio State vs Michigan) and in NFL (Baltimore vs Pittsburgh). Which one do you prefer?
I've only been in the league for 2 years now so I'm going to have to say the Michigan vs. Ohio State.
What was the main difference between college and professional football?
Nfl is so much faster than college. The speed of the players is crazy
One interesting fact about your career is that you have played for both Harbaugh brothers. What are the main differences between them? And the similarities?
The Harbaugh's are obliviously brothers. Their coaching styles are very similar. Personalities are different
The Baltimore Ravens have always had a defensive mindset to them. You play in the D Line, which is very populated with great players. What can you do that others can't? What teamate is helping you grow as a player?
I think the player that is helping me out the most is Terrell Suggs. He helps all of us out.
Last year the Baltimore Ravens did not made it to the playoffs for the second year in a row due to Tyler Boyd's last second TD. How did this affect the locker room? Have you guys got over it?
That will always be in the back of our minds. Until we make the playoffs and beat the bengals, it'll always be in the back of our minds
About the locker room… who do you have a better relationship with? What player gets everybody fired up? Any rituals before the start of games?
The defensive line is pretty close group of guys.
How do you think the team looks this coming season? Did you talk to any of the rookies?
I think we have a great shot at being one of the best teams in the league. That's what we are striving for each and everyday
How is Chris Wormley outside the football field? What are your hobbies?
I'm a chill guy that likes to spend time with his wife, family and friends.
One final question. What do you think about the games played in London? Do you feel the support from European fans?
The London games are a great way to connect with fans over seas. The fans seem energetic to support us and see what American football is all about
Chris Wormley, nacido en Toledo, Ohio. Uno de los estados donde más football se respira. ¿Siempre has jugado al football o practicaste otros deportes?
No, he jugado al baloncesto, al béisbol y he practicado atletismo y también football mientras crecía.
Siendo originario de Ohio, ¿cómo acabaste jugando en Michigan Wolverines, principales rivales de los de Ohio St?
Yo crecí siendo un fan de Michigan así que cuando me tocó elegir universidad la elección fue fácil, era el sitio perfecto para mí tanto deportivamente como académicamente.
Hablando de rivalidades, has vivido una de las mayores en NCAA (Ohio St vs Michigan) y una de las de la NFL (Ravens vs Steelers). ¿Con cuál te quedas?
Llevo en la NFL sólo dos años así que me voy a decantar por la de Ohio St vs Michigan.
¿Cuál ha sido la mayor diferencia que has encontrado entre la NFL y la NCAA?
La NFL es muchísima más rápida que el college. La velocidad de los jugadores es una locura.
Una de las cosas más curiosas de tu carrera deportiva es que has coincidido con los dos hermanos Harbaugh. ¿Cuáles son las principales diferencias entre Jim y John? ¿Y en qué se parecen más?
Los Harbaugh obviamente son hermanos y sus estilos a la hora de entrenar se parecen bastante. Aunque luego a la hora de la verdad sus personalidades son bastante diferentes.
Los Ravens siempre se han caracterizado por ser una franquicia con mentalidad defensiva. Precisamente la línea defensiva, donde juegas tú, es la unidad con más competencia del equipo. ¿Qué puedes aportar que otros jugadores no? ¿Quién te está ayudando más a crecer como jugador?
El jugador que más me ha ayudado es Terrell Suggs, él nos ayuda un montón a todos.
 El año pasado los Ravens se quedaron a las puertas de los Playoffs por segundo año consecutivo tras el TD de Tyler Boyd. ¿Cómo afectó esto al vestuario? ¿Se ha recuperado el equipo de este golpe?
Ese golpe siempre va a estar en nuestras mentes. Hasta que no nos clasifiquemos para los playoffs y eliminemos a los Bengals no nos vamos a olvidar.
Hablando del vestuario. ¿Con que jugadores te llevas mejor? ¿Quién anima el vestuario? ¿Algún ritual antes de salir a jugar?
La línea de defensa tiene un grupo de jugadores muy unidos.
¿Cómo ves al equipo de cara a esta nueva temporada? ¿Has hablado ya con algún rookie?
Tenemos la oportunidad de ser uno de los mejores equipos de la temporada. Es para lo que nos estamos esforzando día tras día.
¿Cómo es el Chris Wormley que no juega al football? ¿Cómo gastas tu tiempo libre?
Soy un chico tranquilo al que le gusta pasar su tiempo con su familia, su mujer y sus amigos.
Los partidos en Londres son una manera muy buena de conectar con los aficionados del otro lado del charco. Los fans son muy activos apoyándonos y hacen ver de qué se trata el football.
@Nayonssen